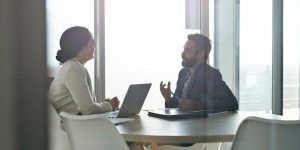 When
HR Proactive provides individual "One-on-One" Sensitivity Training, coaching and counselling for your employees when the need arises in your workplace. Our sensitivity training provides an effective way of addressing inappropriate behaviour or assisting employees who may be encountering difficulty interacting with or managing others. This One-on-One Sensitivity Training Program can also be delivered as a group session.
Individualized sensitivity training may be required as a result of an internal issue, situation or harassment investigation, where remedial or corrective action and assistance for an individual employee has been identified and/or agreed upon as a means of resolution and workplace restoration. Sometimes, through performance management and assessment, a need to improve or enhance interpersonal skills and interaction can also be identified.
Personalized sensitivity training may also assist management-level staff to better understand and deal more skillfully with issues of workplace diversity and accommodation situations.
Why
Our customized sensitivity training is an effective and respectful way of addressing inappropriate workplace behaviours, taking corrective action, and minimizing disruption to your workforce. At the same time, workplace sensitivity training affords you an opportunity to retain experienced, long-term employees in whom you have invested much effort and expense.
How

HR Proactive can help you to assess if this method of sensitivity training is appropriate given the circumstances at hand and can design customized and personalized sessions to address the facts of the particular situation. HR Proactive's highly skilled trainers can then deliver the agreed-upon number of sessions (each session is usually three to four hours in length), which can vary depending upon the severity of the situation, the individual's needs and the possible terms of a complaint settlement.
At the end of the sensitivity training session, HR Proactive will provide a written assessment of the participant's performance, with recommendations for any additional assistance, supports or follow-up to ensure a successful restoration of the workplace. The employee will be provided with a Certificate of Completion.
Where
HR Proactive offers Canada-wide virtual instructor-led one-on-one sensitivity training in real-time through our online interactive training platform. In-person sensitivity training can be arranged, depending upon the circumstances, following COVID-19 protocols and health & safety guidelines. We will work with the client to identify a neutral place, whether at or in proximity to the workplace, that allows for the sensitivity training to be provided in a discreet, respectful and professional environment.